Minneapolis Neighborhood Maps
Trying to understand all of the neighborhoods around Minneapolis is not easy. Download a complimentary map detailing differrent areas such Southwest Minneapolis and downtown Minneapolis. View proximity to area schools, transit and access. Most importantly, click on any neighborhood or building to see available real estate for sale! Truly a unique to start your real estate search!
Downtown Minneapolis Condo Map
This map details all of the neighborhoods located within downtown Minneapolis. In addition, every single condominium building is highlighted with inks that allow users to see available listings for sale within the given building or neighborhood.
Print this map out the next time you want to explore the urban landscape or download it to your laptop or ipad and explore virtually!
Complimentary Downtown Minneapolis condo map right here.
Minneapolis Lakes Area Neighborhood Map
If you have ever been confused
by all of the neighborhoods in Minneapolis, rest assured plenty of us have been there! Download this map which have every neighborhood both in and around the lakes area parsed out to view. We have included some Edina neighborhoods, St Louis Park and South Minneapolis neighborhoods. Simply click any of these to view available listings for sale. Gain point of reference from our helpful Minneapolis Lakes Area Map!
Complimentary Minneapolis Lakes area map right here.
Edina Neighborhood Map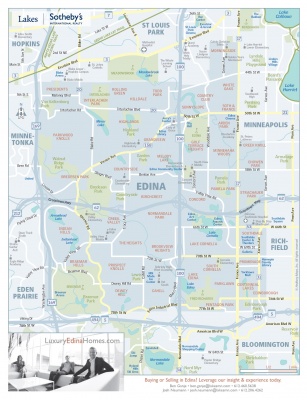 Over the last few years, residents of Edina have banded together to create individual names to their respective neighborhoods. Through this city process, 45 neighborhoods have been assembled covering all of the city of Edina. Download this map to understand where all of these neighborhoods are from one another. Click any of the neighborhoods to view real estate for sale through our LuxuryEdinaHomes.com website.
Complimentary Edina neighborhood map right here.